Informationen
OT:Necronomicon
ca. 93 Minuten
USA 1994
Regie
Christophe Gans
Shusuke Kaneko
Brian Yuzna
Darsteller
Jeffrey Combs
Bruce Payne
Maria Ford
Belinda Bauer
u.a.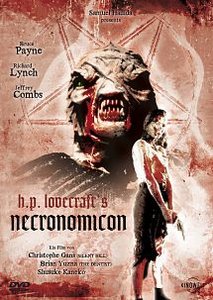 Story
Der Schrifsteller H.P. Lovecraft (Jeffrey Combs) findet in einer unheimlich anmutenden und von seltsamen Gestalten bewachten Bibliothek das sagenumwobene Necronomicon, das Buch der Toten. Ohne zu ahnen, welches Unheil er damit heraufbeschwört, öffnet er das Buch und schreibt drei düstere Schauergeschichten daraus ab: In der ersten Geschichte, "The Drawned", geht es um Edward De Lapoer (Bruce Payne), der von seinem verstorbenen Onkel ein altes Haus an der Küste erbt. Das trostlose Gemäuer verheißt nichts Gutes, was sich alsbald bestätigt, als Edward einen Brief von seinem Onkel findet, in dem dieser von einem tragischen Unfall berichtet, bei dem er Frau und Kind verlor. Edward's Onkel konnte sich jedoch nicht mit dem Verlust abfinden und holte die Beiden mit einem alten Ritual wieder ins Leben zurück. Seine Frau und seine Tochter hatten sich jedoch sehr verändert, und wollten nun auch seinen Tod. Da kommt Edward, der erst vor kurzem selbst seine Frau verloren hat, eine Idee… In der zweiten Erzählung "The Cold", sucht der Reporter Dale Porkel (Dennis Christopher) das Haus von Jane Ostermann (Bess Meyer) auf, weil in der näheren Umgebung immer wieder Menschen verschwinden. Ebenso will er wissen, was es mit den örtlichen Spukgeschichten auf sich hat, die von einem verrückten Professor erzählen, der einst hier gelebt haben soll. Jane erzählt dem Reporter daraufhin die Geschichte ihrer Mutter, die einst als Untermieterin in dieses Haus zog und Dr. Madden (David Warner) kennen lernte, der im oberen Stockwerk des Hauses lebte. Der Doktor verbarg ein schreckliches Geheimnis, das ihn dazu zwang, immer wieder unschuldige Menschen zu entführen und sie für seine tödlichen Experimente zu missbrauchen. Zuerst kauft der gewitzte Reporter Jane diese Geschichte nicht ab, muss dann aber schon sehr bald feststellen, dass sie auf grausamen Tatsachen basiert… Die dritte und zugleich letzte Story, "Whispers", handelt von den beiden Polizisten Sarah (Signy Coleman) und Paul (Obba Babatundé), die bei einem Einsatz unerwartet in die Fänge des Schlächters geraten, ein schon lange gesuchter und gefährlicher Killer. Nach einem Autocrash wird der verletzte Paul tief in ein unterirdisches Katakombensystem entführt, woraufhin Sarah ihm helfen will und seiner Spur folgt. In dem verwinkelten Tunnelsystem trifft Sarah auf einen Mann (Don Calfa) und seine Frau (Judith Drake), die Sarah jedoch direkt in die Fänge des Schlächters locken… Während Lovecraft diese Geschichten zu Papier bringt, öffnet das Necronomicon plötzlich ein Tor zur Hölle, aus dem scheußliche, dämonische Wesen treten…
Kritik
Einem bekannten Sprichwort nach verderben zu viele Köche den Brei. Lassen wir unsere Gedanken mal beiläufig zu dem Anfang der 90er erschienen Horrorstreifen "Two Evil Eyes" schweifen, dann kommt ein eher langweiliges Ergebnis in die Erinnerung zurück, und deshalb war meine Befürchtung groß, dass dies auch bei "H.P.Lovecraft's Necronomicon" der Fall sein könnte. So gaben sich hier Brian Yuzna ("Return of the Living Dead 3", "The Dentist", "Bride of Re-Animator"), Christophe Gans ("Pakt der Wölfe", "Silent Hill") und Shusuke Kaneko ("Azumi 2: Death or Love") die Ehre und versuchten sich gemeinsam an drei Kurzgeschichten, die auf Storys von H.P. Lovecraft basieren. Das Resultat? Ordentlich, und zumindest für Horrorfans ein echter Leckerbissen! Der Streifen ist dabei wie die Meisten seiner Art inszeniert und arbeitet das typische Schema ab. In diesem Fall gelangt H.P. Lovecraft himself in den Besitz des legendären Necronomicon und geht in seinem Leichtsinn äußerst unvorsichtig damit um. Zur Freude des Zuschauers, versteht sich. So kommen wir nämlich zuerst in den Genuss dreier Kurzgeschichten, eine jeweils von einem der drei Regisseure inszeniert, und dürfen zum Schluss noch erfahren, wie es Herrn Lovecraft letzten Endes ergeht, schließlich wäre es ja langweilig, würde nicht auch der einleitende Plot zu Ende geführt werden. Wie dem auch sei. Da hier unterschiedliche Filmemacher am Werk wahren, ist es sicherlich keine Überraschung, dass sich die Episoden "The Drawned", "The Cold" und "Whispers" qualitativ voneinander unterscheiden. Genau so wie ich es erwartete, beherbergten die drei Storys zwar an und für sich den selben Grundton, es werden ja schließlich Geschichten von ein und denselben Autor verfilmt, doch von der Machart her sind klare Unterschiede festzustellen. Zuerst ist Christophe Gans an der Reihe, der sich mit "The Drawned" auf den ersten Blick an eine klassische Gruselstory heranwagen darf. Ein verbitterter Mann bezieht ein ihm vermachtes, abgeschiedenes und unheimliches Haus und kommt schon bald hinter die Geheimnisse seines verstorbenen Onkels, ja, darf sogar auf dessen Pfaden wandeln. Diese Geschichte benötigt zwar seine Zeit, bis sie mal Schwung bekommt, doch dafür hat es mich dann um so mehr überrascht, welche Kaliber Gans aufzufahren weiß. Spätestens dann, wenn die verstorbenen, mittlerweile überaus schleimigen Verwandten aus dem Meer zurückkommen, bietet die Story einiges an Special Effekten, die einem das Wasser im Munde zusammenlaufen lassen. Am Ende darf dann sogar noch der Meeresgott Dagon durch den Fußboden des Hauses brechen, was effektmäßig auch umwerfend inszeniert wurde. Als nächster an der Reihe ist Shusuke Kaneko, der mir vor diesem Film gänzlich unbekannt war und der zur Zeit des Drehs anscheinend kein Wort Englisch sprach. Dafür, dass ich mit Kaneko zuerst nichts anfangen konnte, hat mir seine Kurzgeschichte "The Cold" sehr gefallen, da sie bisweilen sehr stark an die kultige TV-Serie "Geschichten aus der Gruft" erinnert. Hier haben wir eine klassische Horrorgeschichte vorliegen, in der sich das Grauen langsam anbahnt und einen dann um so mehr in den Bann zieht. Die Handlung über den Wissenschaftler, der nur bei eisiger Kälte überleben kann, und ansonsten zu schmelzen beginnt, ist klasse inszeniert und voller Wendepunkte. Auch hier kommen die Effekte nicht zu kurz. Insbesondere das langsame Verflüssigen und Auseinanderfallen des Doktors am Ende ist wunderbar schleimig und blutrünstig in Szene gesetzt. Als letzter ist Brian Yuzna dran, von dem ich mir auch das Beste erhoffte. Yuzna hat mit zahlreichen Streifen im Horrorgenre schon auf sich aufmerksam gemacht, von denen mir auch viele zusagten. Leider hat sich der Gute mit "Whispers" eine Geschichte zur Brust genommen, die ihm, wie ich finde, nicht all zu gut steht, da sie weitgehend von übernatürlichen Versatzstücken lebt und Yuzna so die Möglichkeit verwehrt bleibt, ein Schlachtfest auf Zelluloid zu bannen. Hier ist es mehr die Atmosphäre und außerdem die unglaublichen Sets, die im Mittelpunkt stehen. Allerdings wäre Yuzna nicht Yuzna, wenn er dem Splattervolk nicht auch was bieten würde. Zu bestaunen gibt es eine Vielzahl besonders ekelerregender Masken und Kostüme, die sich der Horror-Altmeister ausgedacht hat. Eine Mutter, die ihr Embryo mit einem weit geöffneten Bauch in sich herumträgt und derartiges mehr lassen den zartbesaiteten Zuschauer jedenfalls erschaudern. Für mich, hingegen meiner Erwartungen, dennoch nicht die beste der drei Geschichten. Alles in allem haben wir hier drei durchaus gelungene und souverän inszenierte Horrorgeschichten, die jedoch nicht immer gleichermaßen unterhalten können. Ab und an kommt schon mal etwas Langeweile auf, doch das wird dann von den tollen Splattereffekten wieder wettgemacht. "H.P.Lovecraft's Necronomicon" ist ein guter, alter Splatterfilm, der gar nichts anderes sein will und jeden Gorehound zufrieden stellt. Betrachtet man die Schauspieler mal genauer, fallen einem einige bekannte Namen wie Jeffrey Combs, Bruce Payne und David Warner auf. Erstgenannter hat bekanntlich in vielen Yuzna-Filmen seinen kleinen Gastauftritt und ist hier als H.P. Lovecraft persönlich zu sehen. Mit seinem vielen Make Up ist er fast nicht zu erkennen, agiert aber überzeugend wie eh und je, was sich auch vom restlichen Cast behaupten lässt.
"H.P.Lovecraft's Necronomicon" ist zwar kein Klassiker des Genres und wird es schwer haben, diesen Rang jemals für sich beanspruchen zu können, doch für den befriedigenden Splatterspaß zwischendurch ist der Film ausgezeichnet geeignet. Yuzna, Gans und Kaneko erledigten ihre Sache dabei alle ordentlich und inszenierten die Lovecraft'schen Geschichten mit außerordentlich viel übernatürlichem und obendrein sehr viel Monster- und Ekel Make Up. Hier und da mal eine kleine Länge sind zu verkraften und trüben den kurzweiligen Spaß nicht weiter.