Informationen
OT:William Winckler's Frankenstein vs. The Creature From Blood Cove
ca.90 Minuten
USA 2005
Darsteller
G. Larry Butler
Alison Lees-Taylor
Gary Canavello
Tera Cooley
u.a.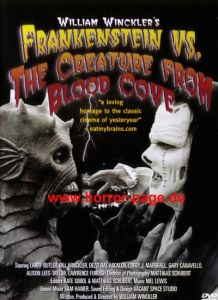 Story
Drei fanatische Wissenschaftler basteln in Kalifornien an der Lösung im Kampf gegen den internationalen Terrorismus. Sie erschaffen auf biogenetischem Weg ein Mutantenwesen halb Mensch, halb Fisch. Zudem buddeln sie noch Frankensteins Monster aus. Das dynamische Duo soll sämtlichen Bombenbastlern und Hobby-Schurken der Welt das Fürchten lehren. Dummerweise läuft aber bei der Gehirnwäsche der beiden Kreaturen etwas schief. Der Kiemenmann büxt aus und macht sich auf den Weg zum Strand. Dort hält gerade ein Fotografen-Team eine prickelnde Nacktfoto-Session. Da Gehirnwaschen anscheinend hungrig macht, verleibt sich der Froschmann direkt erstmal das leckere Model ein.
Die restlichen Crewmitglieder können fliehen. Mit letzter Not retten sie sich auf das Anwesen der verrückten Wissenschaftler. Diese sind natürlich wenig erbaut darüber, dass die Kameraleute ihren geheimen Forschungen entdeckt haben, und nehmen sie als Geisel. Draußen tobt der Krötenmann, im Haus wütet Frankenstein. Verzweifelt versuchen die Überlebenden zu fliehen. Sie müssen die Welt da draußen warnen…
Kritik
William Winckler entführt den Zuschauer in die guten alten Zeiten der ganz großen Horrorfilme. In die 30er bis 60er Jahre, in denen die berühmten Produktionsfirmen Universal, AIP und Hammer die Welt mit unzähligen Horrorfilmen beglückten. In die Zeiten, in denen Jack Arnold seinen Schrecken vom Amazonas auf das Kinopublikum losließ, in denen Vincent Price das "Pendel des Todes" anstieß, Boris Karloff als Frankensteins Monster durch die Gegend streifte, Lon Chaney unter seinem Fellkostüm schwitzte. Eben in die Zeiten, als der Horror-Film noch ehrliches Handwerk war. Wo die Special-Effects und Kostüme noch liebevoll in den Hexenküchen der Maskenbildner entstanden und nicht etwa am Computer. Wo die Schauspieler noch hingebungsvoll in ihren Charakterrollen aufblühten und sich ganz ihrem Spiel hingaben.
"William Winckler's Frankenstein vs. the Creature from Blood Cove" hätte ohne weiteres auch in den 50er Jahren im Special zusammen mit Jack Arnolds Amazonas-Filmen im Autokino das Publikum schocken können. Winckler übernahm nicht nur Regie und Produktion. Er schrieb auch das Drehbuch und spielt sogar eine der Hauptrollen im Film. Während das Mainstream-Hollywood sich mit Leichenfledderei in fast schon regelmäßigen Abständen erdreistet, die alten Klassiker durch indiskutable Neuverfilmungen zu verhunzen, geht Winckler einen anderen, ehrlichen Weg: Der bekennende Horror-Fan (Vincent Price ist übrigens sein Lieblingsschauspieler!!) hat eine liebevolle Hommage an seine Lieblingsfilme gedreht. Dabei ist es dem Multitalent gelungen, mit einer eigenständigen Story den ganzen Charme der alten Filmklassiker vergangener Zeiten in die Gegenwart zu transportieren. Zwar dürfte der Film bei CGI- und Splatter-verwöhnten Horror-Kids der jüngeren Generation vielleicht nicht unbedingt zum neuen Kultfilm avancieren. Fans von trashigem Monster-Horror, insbesondere des 50er – Jahre Kinos, werden William Winckler am liebsten um den Hals fallen.
Schwarz-Weiß-Bild, bombastischer B-Movie-Soundtrack inkl. Kirchenorgel, billige Latexkostüme, blubbernde Labor-Reagenzgläser, Helden in Hawaii-Hemden und Scream-Queens, die wahrlich Queens sind. Zwischendurch ein paar nette Doku-Bilder von Quallen und ähnlichem Wasser-Getier, die die ganze Atmosphäre weiter auflockern. Jack Arnold hätte seine helle Freude an diesem Film!!
Der Soundtrack stammt übrigens von Mel Lewis, der sich seine Sporen bei Roger Corman verdiente. Ein Mann, der also sein Handwerk versteht. Er kreierte er eine stimmige musikalische Untermalung, wobei er sich unter anderem auch bei Tschaikowsky' s Schwanensee bediente. Die Musik wirkt anfangs sehr schön und gefällig, erscheint im Verlaufe des Films aufgrund häufiger Wiederholungen allerdings auf Dauer etwas nervig. In einem Extra der DVD kann man den Komponisten bei seiner Arbeit beobachten.
Zahlreiche Cameo-Auftritte illustrer B-Movie-Persönlichkeiten wie Russ-Meyer-Starlett Raven De la Croix, Porno-Diva Selen Silver oder "Troma's" Lloyd Kaufman machen den Film für den Fan zu einem spannenden "Such-den-Promi"-Spiel.
Ein kleines Manko hat der Film leider: Er ist einfach zu lang. Das Drehbuch hätte gut und gerne Stoff für 50 oder 60 Minuten geliefert. Bei einer Laufzeit von 90 Minuten kommt somit leider zwischendurch ein bisschen Langeweile angesichts einiger Wiederholungen oder aus Dramaturgiegründen endlos in die Länge gezogener Passagen auf. Insbesondere die Kampfszenen zwischen Monster und Fischmann sind ein bisschen arg lang.
Nichtsdestotrotz kann "William Winckler's Frankenstein vs. the Creature from Blood Cove" überzeugen. Sowohl als ernst gemeinter Horrorfilm für den Nostalgiker, als auch als Partyfilm für den Trash-Fan.
Ähnlicher Film:
Der Schrecken vom Amazonas
Die Rache des Ungeheuers