Informationen
OT:The Devil's Rejects
ca.106 Minuten
USA 2005
Darsteller
Sid Haig
Bill Moseley
Sheri Moon
Ken Foree
u.a.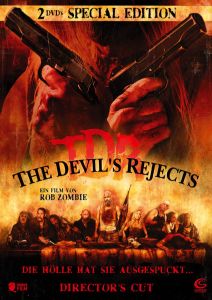 Story
Die Machenschaften der psychopatischen "Firefly" Familie sind aufgeflogen. Sheriff John Wydell, dessen Bruder eines der unzähligen Opfer der Familie wurde, umstellt mit zahlreichen Kollegen das üppige Anwesen der Fireflys und nimmt es unter Beschuss. Nach einer wilden Schießerei, bei der die Polizei herbe Verluste beklagen muss, gelingt den Geschwistern Baby und Otis die Flucht, während Mutter Firefly festgenommen wird.
Baby und Otis befolgen nun ihren Notfallplan und informieren ihren Vater "Captain Spaulding", der bereits via TV von der Stürmung der Ranch erfahren hat. Gemeinsam wollen sie sich in dem Hotel von Captain Spauldings Halbbruder Charlie verschanzen. Doch bis Baby und Otis dort ankommen, machen sie in einer Motel-Anlage einen Zwischenstopp, was für die dortigen Besucher zum blutigen und äußerst erniedrigen Todestrip wird.
Als die drei Sadisten dann gemeinsam in Charlies Hotel ankommen, finden sie vorerst den erhofften Schutz, doch Sheriff John Wydell ist ihnen bereits mit zwei Kopfgeldjägern auf den Fersen. Der Schutzmann und seine Schergen sind bereit, alle Hindernisse zu überwinden, um die Tätern mehr oder weniger gerecht zu bestrafen.
Kritik
Jetzt ist es Gewissheit, dass der ehemalige Musikschaffende, Rob Zombie, mit seinem fulminanten Film-Debüt "Haus der 1000 Leichen" nicht nur eine filmische Eintagsfliege geschaffen hat. "The Devils Rejects", der auf dem Vorgänger aufbaut, aber doch so ganz anders ist, zeigt das unverkennbare Talent von Zombie als Meisterregisseur des Horrorgenres. In "Haus der 1000 Leichen" hat Rob der Gemeinde der "TCM"-Fans wieder etwas gegeben, was es seit langer Zeit nicht gab oder vielleicht sogar nicht geben durfte. Nur mit Glück erschien der Film überhaupt auf den Kinoleinwänden der Welt. Und jetzt, mit "The Devils Rejects", schaltet Zombie einen Gang höher. Wem die unverbrauchten technischen Ideen Zombies aus dem Vorgänger gefallen haben, wird auch jetzt auf seine Kosten kommen. Ein visueller Leckerbissen, der mit dreckigen, ungehobelten, brutalen und fiesen Bildelementen daherkommt und dem Zuschauer nicht mal im Ansatz die Chance gibt, sich der optischen Anziehungskraft zu widersetzen. Zombie und sein Team haben es geschafft, trotz der unverkennbaren Ähnlichkeiten zum Vorgänger etwas komplett Neues zu schaffen. "The Devils Rejects" kommt als bedrückendes Roadmovie daher, das in den trockenen Weiten der Wüste spielt. Die Spielorte wurden aufgrund des knappen Budgets nicht konstruiert, es wurde auf vorhandenes Material zurückgegriffen. Bemerkenswert ist, dass alles wirklich den Eindruck erweckt, dass man sich wirklich im Jahre 1978 befindet, in dem der Film spielt. Ein Jahr nach den Geschehnissen von "Haus der 1000 Leichen". Ebenfalls ist es schon nahezu sensationell, dass die Drehorte ganz dicht beieinander liegen und doch so wirken, als würden sie viele Meilen trennen.
Mit den beeindruckenden Kulissen im Hintergrund, verfolgt man die abgefahrene Story, die zu keinem Zeitpunkt langweilig oder uninteressant wird. Vielleicht ist sie hier und da etwas zu hart, gerade in der "Motel-Szene". Es werden doch eindeutige Erinnerungen an "Last House On The Left" und Konsorten geweckt. Es wird aufs übelste erniedrigt und auch die Spezialeffekte sind sicherlich nichts für schwache Gemüter. Doch das ist es nun mal, was einen Rob-Zombie-Film so besonders macht. Dazu kommt dann noch die Tatsache, dass in der Hauptsache nur Handkameras verwendet wurden, die dem Betrachter ein herrlich verwackeltes Bild in den jeweiligen Szenen präsentieren und somit für eine herrlich verstörende Atmosphäre sorgen. Diese Low-Budget Techniken sind einer der Gründe für das Gelingen des Streifen, denn Zombie war mal wieder außerordentlich kreativ und er gibt zu, dass er wohl besser mit weniger Geld drehen kann, da man sich bei einem Million-Budget nicht so viele Gedanken machen muss, alles perfekt und günstig in den Kasten zu bekommen.
Die Darsteller, auch ein positiver Aspekt des Films, kommen mit den geringen Einnahmen offenbar auch sehr gut klar. Ihnen ist ohne Frage anzusehen, dass sie viel Freude beim Dreh hatten. Sid Haig, Bill Moseley und Sheri Moon knüpfen da an, wo sie im ersten Teil aufgehört haben. Die "Captain Spaulding" Rolle von Sid Haig ist allerdings etwas anders geworden. Der Clown steht nun eher im Mittelpunkt und verbreitet eine andere Art Terror.
Die weiteren Beteiligten sind auch nicht zu unterschätzen. Da wäre zum Beispiel der aus "Zombie – Dawn Of The Dead" bekannte Ken Foree, Michael "Hügel der blutigen Augen" Berryman, Danny Trejo (From Dusk Till Dawn) und nicht zuletzt William Forsythe (u.a. "The Rock – Fels der Entscheidung"). Den Darstellern ist ebenso wie den zuvor genannten anzusehen, dass sie bei diesem, etwas ungewöhnlichen Dreh viel Spaß haben und bringen sich gut in die Geschichte ein. Leider spielt die Trash-Mama Karen Black nicht mehr mit. Sie wurde durch Leslie Easterbrook ersetzt, die ihre Rolle als "Mother Firefly" ebenfalls passabel spielt.
Mit "The Devils Reject" hat Rob Zombie seine angefangene Geschichte würdig weitergeführt und eindrucksvoll beendet. Es ist zwar einer dieser Filme, über die man zwei Meinungen haben kann, doch für Fans des Terror- und Brutalo-Kino ist es ein weiteres Highlight des Genres. "The Devils Reject" erreicht mindestens das Niveau des Vorgängers, ist durch seine andere Art vielleicht sogar noch etwas besser und auf jeden Fall härter geworden. Als Fan darf man schon jetzt auf das neue Film-Projekt des begabten Regisseurs Zombie gespannt sein und darauf, ob er wieder eine neue Richtung einschlägt.
"The Devils Reject" wird in der Kenner-Szene ein riesiger Erfolg werden und sicherlich ein größeres Publikum als sein Vorgänger ansprechen.